We've been developing our centralized IT alert management/escalation system for a while now (see: Say Goodbye to Your Pager: We're working on a new, multi-vendor, centralized alert management product) and the good news is we're ready to welcome everyone who's interested in participating in the beta to do so. There's more info in this post, but if you already know you want in, visit the Alert Central website and sign up.
What's Alert Central?
Alert Central is a product intended to help you get the right alerts to the right people at the right time. Core features include:
Alert centralization and escalation
Group-centric management (with Active Directory integration)
Multiple on-call calendars per-group
Out of the box two-way integration with Orion alerting
Support for almost any third party and non-Orion source via email
Acknowledgement and escalation via both email and web interface
Advanced routing rules that let you slice and dice routing policies based on properties of the email/alerts
A weekly summary report with important stats
A web UI that works in browsers and mobile devices (as long as you can reach the AC server via VPN or internal network)
Plain text, rich text, and short text (for use with SMS) email templates
It's different than a helpdesk or ticket tracking system in that Alert Central's focus is around On Call management and escalation. When you need to wake someone up to deal with an issue, when you need to be sure that something is handled promptly, when something is affecting business/people, when an issue is time sensitive, it's a good candidate for Alert Central. When you're tracking ongoing issues, requests for help or new equipment, and things that aren't necessarily time-sensitive, a helpdesk system is a great fit (we happen to know of a good one - Web Help Desk).
Alert Central is deployed as a standalone virtual appliance, not an Orion module or add-on. Anyone can download and install it, and integrate it with SolarWinds and non-SolarWinds products alike. As long as your product sends emails and you want to route them to the right people, Alert Central will work for you.
Guess what, it's free!
You heard that right - Alert Central is free. Not just the beta. The product. Free. $0. Also zero in Euros, Canadian dollars, and all other currencies. Except maybe your feedback, that is a currency we really appreciate.
How does it work?
This handy infographic is a great visual of how Alert Central works (borrowed from the Alert Central website).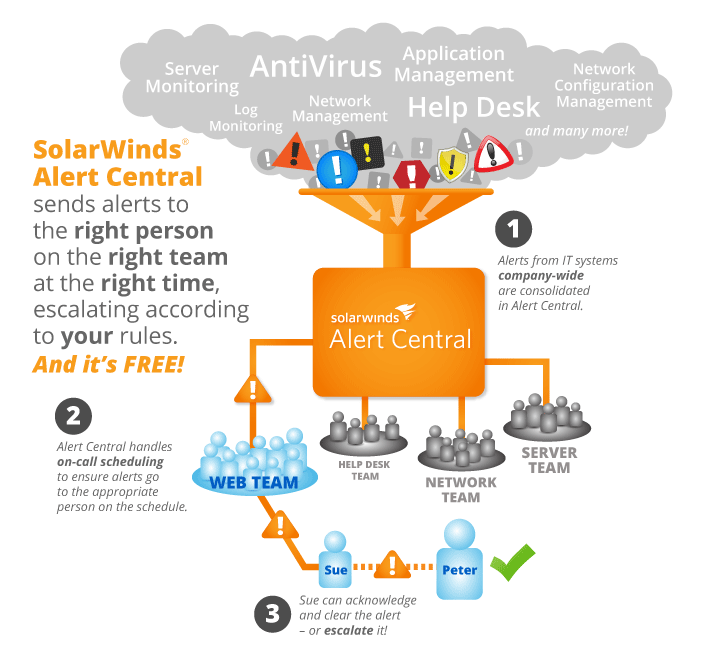 This video (humorously) shows you why Alert Central is awesome:
These 3 images are also a really good summary of the highlights and top features (also on the Alert Central website) - left side has feature callouts, right side high-res for the curious among you:
Managing Alerts:
On Call Scheduling:
Alert Routing:
How do I get access to the beta?
Easy! Go to the Alert Central website and click the big "Sign up for the beta" links. Be sure to check out the beta contest, the winner gets a pretty sweet trip to Austin.
Give us feedback - we want to know what you think
Speaking of feedback... Take a look at the website, install the beta, give us your thoughts. Anything got you stumped? Think you ran into a bug? Think this is the best UI since Netscape Navigator busted open the web? Tell us what you think.
To report bugs, issues, confusion, or praise for the beta, use the The specified item was not found. group. There's an important post there with known issues that you should be sure to check first - Alert Central 1/2013 Beta Notes.
If you have a suggestion for something we didn't get in v1/beta that you think would make Alert Central even more awesome for you, please post (and vote) in the Ideas/Feature Requests area of the beta group. A shortcut: http://thwack.solarwinds.com/groups/alert-central-beta/content?filterID=content~objecttype~idea